TECHNOLOGY > Porous Air Bearing Principles and Technology
Porous Air Bearing Principles and Technology
A company that delivers customer happiness and satisfaction
Porous air bearing principle
Porous air bearings are made of porous carbon material that are formed with millions of submicron level micro-holes. When air pressure is supplied to the bearing surface of the micro-holes, an air film is formed between the guide surface and the bearing surface, enabling non-contact operation. The porous carbon surface of air bearings can better protect the bearings even when air is not supplied. Current rolling bearings are facing technical limitation in applications such as semiconductor manufacturing, high-precision scanning, and high-speed equipment, and air bearings that have improved these problems have little friction and wear. Air bearing have many technical advantages because their high-speed and high-precision characteristics and no need for oil lubrication.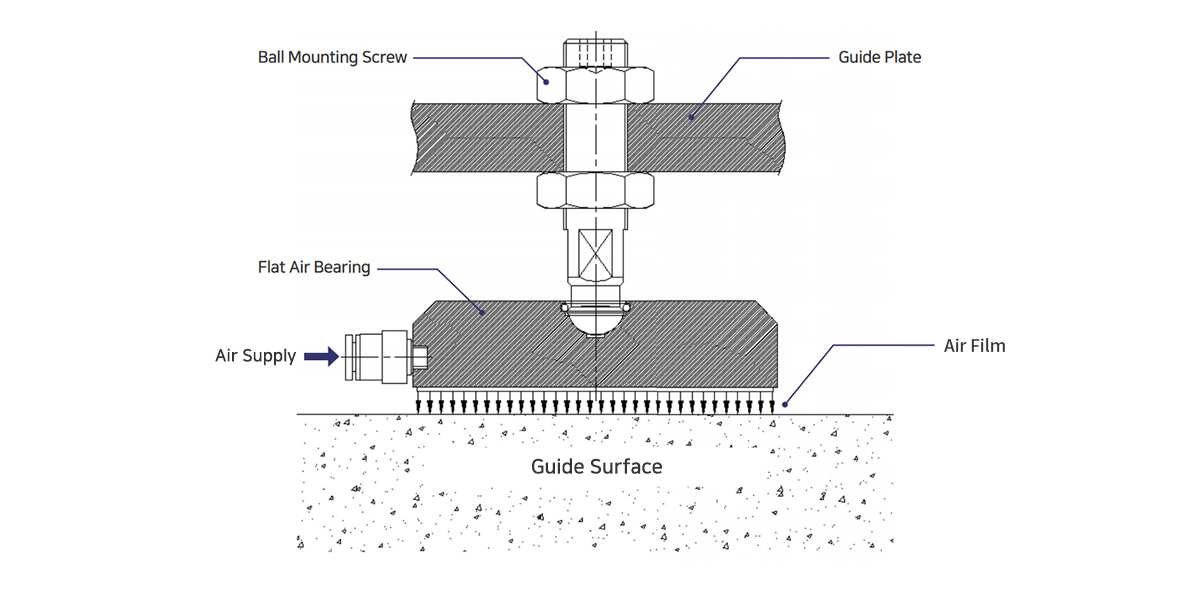 Porous air bearing
Porous air bearing

| Advantages | Result |
| --- | --- |
| Zero Friction | Fast Settling Time, Precise High Acceleration |
| Zero Wear | No Particle |
| Smooth & Silent Motion | No Stiction, High Scanning Resolution |
| Eliminate Lubrication | Oil-Free Environment, Self Cleaning Effect |
| Straighter Motion | Wider Sweet Spot |
| Higher Damping | Air Film Cushion |
| High Speed | Increase Speed |
| Acceleration | No Extra Mass |
Comparison of porous air bearing and orifice air bearing
Air bearings are generally classified as orifice or porous air bearings orifice. Orifice air bearings have traditionally been the most widely used method, but porous air bearings are quickly becoming popular due to their many advantages and increasing effectiveness.
Orifice air bearings control the amount of air in combination with grooves that distribute compressed air evenly to the bearing surface through small, precisely sized holes machined into it. If the bearing surface is scratched or damaged across a groove or near an orifice, it can cause a loss of pressure and failure to maintain an air gap, causing the bearing to crash even at normal air supply pressure.
Porous air bearings control the amount of air by distributing compressed air evenly over the entire bearing surface through millions of holes in the porous mass. For this reason, porous air bearings can operate normally without any problems because the flow is not disturbed and the air pressure is maintained almost uniformly over the entire surface even after severe scratches have occurred. It also has load capacity, higher stiffness, and better lift height stability.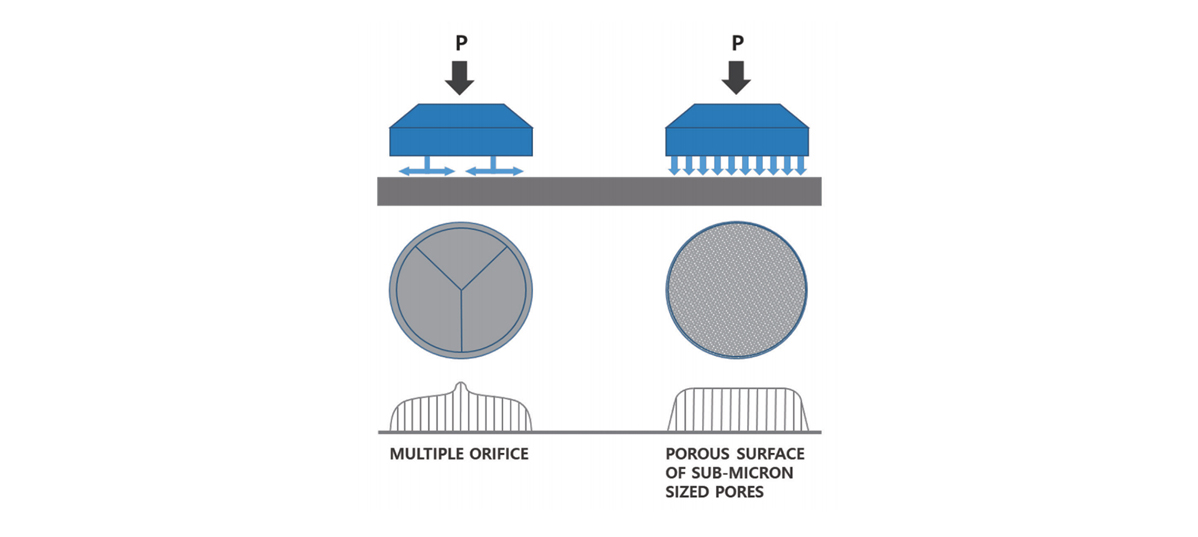 301-902, Bucheon Techno Park, 345, Seokcheon-ro, Bucheon-si, Gyeonggi-do, Republic of Korea
CEO : Suyong Lee / Tel : +82-32-323-6880~1 / Fax : +82-32-323-6882 / E-mail : sales@lnkairbearing.com
COPYRIGHTⓒ LNK CO., LTD. ALL RIGHTS RESERVED.